Panasonic presents a new integrated, mobile point-of-sale solution based on the all-rounder Toughbook FZ-G1. The newly developed mobile payment device holder perfectly connects the 10″ tablet with world-leading mobile payment solutions such as the Ingenico iSMP4.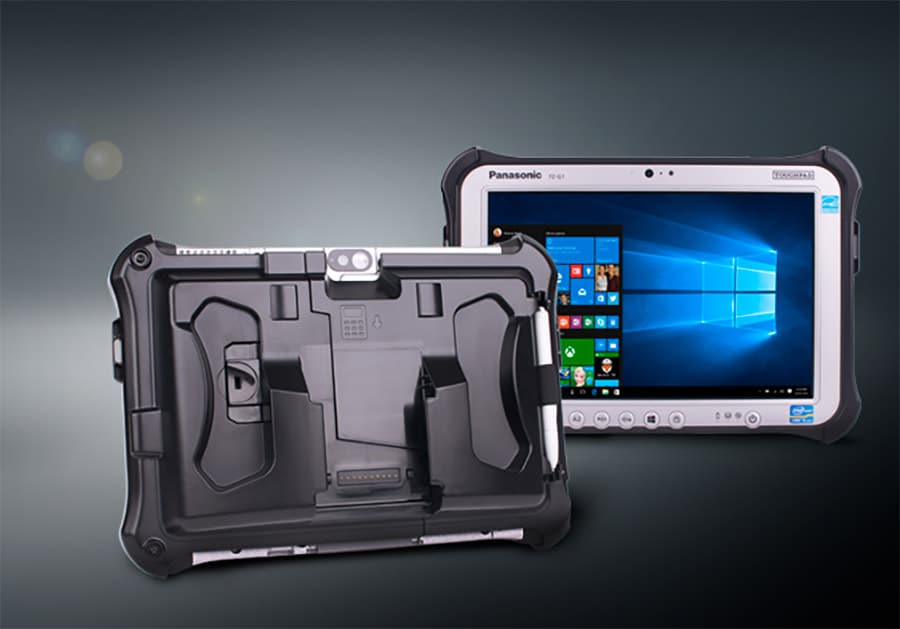 The inte­gra­ted device mount makes the Pana­so­nic Tough­book FZ-G1 the ideal mobile point-of-sale (mPOS) solu­tion for the retail and hospi­ta­lity indus­tries. Espe­cially in tasks such as Queue Busting, taking orders and paying directly at the table, sales support, shop­ping on board aircraft or field staff, it is ideal.
The newly intro­du­ced solu­tion is the first in a series of inte­gra­ted mobile payment device holders for Panasonic's various rugged tablets and hand­helds. Payment devices such as the Inge­nico iSMP4 or the Veri­fone e355 can be easily plug­ged in and unplug­ged into the mobile payment device holder of the Pana­so­nic Tough­pad FZ-G1. In addi­tion, the mobile payment device holder can also be adap­ted to payment devices from other provi­ders on a project basis.
Seamless integration
The Inge­nico payment device fits perfectly into the case and is connec­ted to the tablet via USB. This ensu­res a reli­able connec­tion of the two devices for data exchange and also allows the char­ging of the two devices with a single cable. The Veri­fone payment device also fits perfectly, connects via Blue­tooth to the Pana­so­nic Tablet and char­ges separately.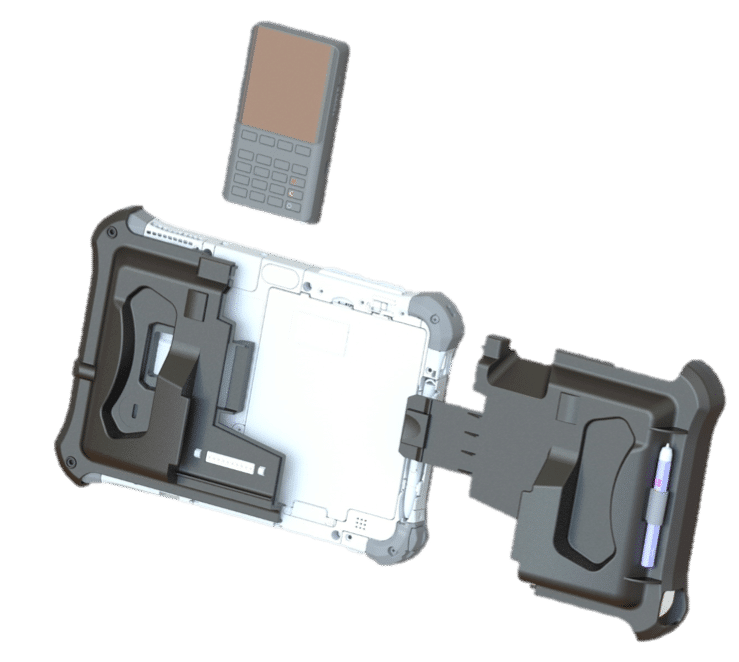 The mobile payment device holder allows easy access to the tablet's battery compart­ment, allowing users to quickly and effi­ci­ently swap the battery while hot swap­ping. In addi­tion, the device holder has an inte­gra­ted holder for a stylus pen, ergo­no­mic hand holders and moun­ting opti­ons for shoul­der straps for incre­a­sed comfort. The front and rear camera of the tablet remain unco­ve­red and thus conti­nue to be usable. In addi­tion, the secu­rity solu­tion can be connec­ted with a Kensing­ton lock when not in use.
Portable Complete Solution for the Point of Sale
"This purpose-desi­gned mobile payment device holder is crea­ting a porta­ble, light­weight and stand-alone mobile busi­ness point-of-sale solu­tion," said Jan Kämp­fer, gene­ral mana­ger of marke­ting at Pana­so­nic Compu­ter Product Solu­ti­ons. "We combine the robust and ergo­no­mic design of Panasonic's popu­lar rugged tablets with payment solu­ti­ons from the world's leading vendors. This gives Pana­so­nic compa­nies a simple and cost-effec­tive tool that enab­les mobile workers to work outside, in harsh and harsh envi­ron­ments and without coverage limitations."
"Retailers and hospi­ta­lity know that satis­fied custo­mers are the key to growing their busi­ness," said Olivier Stein­fels, Ingenico's Retail Marke­ting Product Mana­ger. "This secure and effi­ci­ent end-to-end solu­tion will expand mobile appli­ca­ti­ons in the retail and hospi­ta­lity indus­tries world­wide. We combine the best of robust tablets and mobile payment solu­ti­ons to help compa­nies provide their custo­mers with a compel­ling and highly perso­na­li­zed shop­ping experience."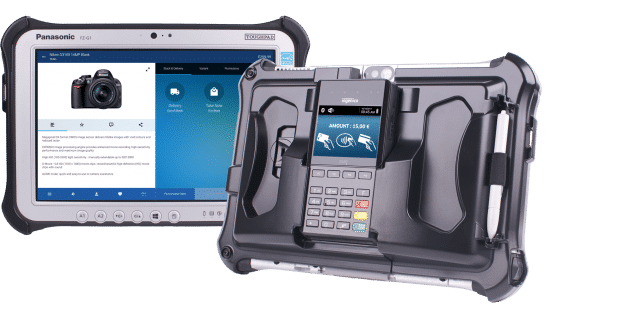 The mobile payment device holder is now available and can also be used with existing Panasonic Toughpad FZ-G1 tablets.