Panasonic increases its revenue share in the rugged notebook market and reports a 176% revenue share growth in the robust handheld market in Europe over the year.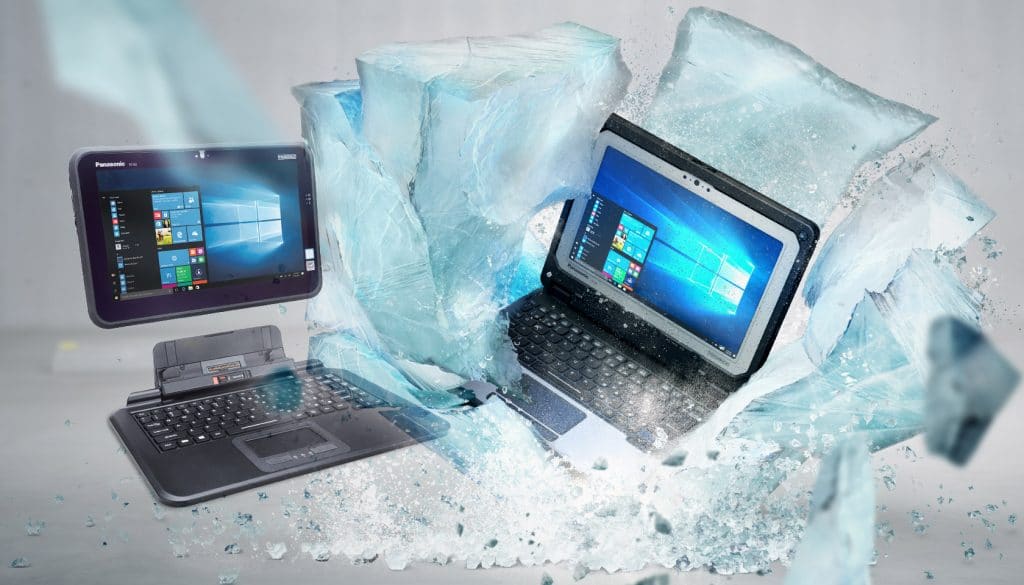 Pana­so­nic has conso­li­da­ted its posi­tion as Europe's leading provi­der of robust mobile compu­ting solu­ti­ons, accord­ing to the latest market analy­sis from VDC Rese­arch. With the TOUGHBOOK brand, Pana­so­nic incre­a­sed its market leaders­hip in the Euro­pean rugged note­book market to 67% in 2016. The TOUGHPAD brand leads the Euro­pean robust tablet market with a 56% share of sales. The expan­sion into the Euro­pean market for rugged hand­helds acce­le­ra­ted shar­ply with growth of 176% of sales in 2015 compa­red to 2016.
"Despite a decline in the over­all busi­ness note­book market, the market for rugged laptops is on the move," says Kevin Jones, Mana­ging Direc­tor of Pana­so­nic Compu­ter Products Solu­ti­ons Europe. "The devices conti­nue to be important tools for many mobile workers who need a keyboard for data entry. We focus on regu­larly impro­ving our most success­ful TOUGHBOOK models and laun­ching new robust 2‑in‑1 detach­a­bles. This stra­tegy enab­led us to incre­ase our market share."
New and Updated Products
For the past 12 months, Pana­so­nic has rebuilt its flagship TOUGHBOOK "Semi Rugge­di­zed" protec­tion class, the CF-54, and impro­ved perfor­mance while lowe­ring power consump­tion. Pana­so­nic has also unvei­led two new 2‑in‑1 detach­a­bles that give mobile workers the best of both worlds — a tablet and a note­book in a single device. The latest robust Detach­a­bles reflect the demand of Euro­pean compa­nies for hybrid mobile devices with display sizes of 12 "- 13.3" accord­ing to the latest findings from IDC.
"

Full Ruggedized" 2‑in‑1 Detachable

The TOUGHBOOK CF-33 is a 2 in 1 Detach­a­ble with 12 "display and full rugge­di­zed protec­tion, two batte­ries with hot-swap func­tion, remova­ble keyboard and maxi­mum flexi­bi­lity of use and perfor­mance for mobile busi­ness compu­ting. In addi­tion to main­ten­ance compa­nies, emer­gency services, police, secu­rity and defense person­nel, Pana­so­nic also uses the CF-33 to target compa­nies with service tech­ni­ci­ans, such as utili­ties and telecommunications.
"

Semi Ruggedized" 2‑in‑1 Detachable

Panasonic's first "Semi Rugge­di­zed" 2‑in‑1 Detach­a­ble offers tablet and note­book func­tio­n­a­lity in a light­weight, dura­ble busi­ness device. The TOUGHPAD FZ-Q2 has a large 12.5 "display for easy reada­bi­lity and a variety of possi­ble connec­tions for connec­tion to nume­rous systems and devices. It is aimed at mobile employees who can use it as needed as a tablet or as a note­book. This bene­fits tech­ni­ci­ans and mecha­nics in produc­tion, service tech­ni­ci­ans in the field and telecom­mu­ni­ca­ti­ons as well as sales staff with custo­mer contact in retail and hospitality.
Leading Supplier of Robust Tablets
In the market for robust tablets Pana­so­nic conti­nues to domi­nate with a sales share of 56% – a good eight times as high share as the second stron­gest compe­ti­tor. Pana­so­nic is conti­nuously impro­ving its models with Windows and Android sizes 7″ and 10″. In addi­tion, the Auto­mo­tive Mobile Test Solu­tion (AMTS) was laun­ched, which was deve­lo­ped in coope­ra­tion with the world's leading car manu­fac­tu­rers to opti­mize engine initia­liz­a­tion and produc­tion controls in vehi­cle production.
Focus on Growth in the Handheld Market
The focus of Pana­so­nic on the Euro­pean market for hand­helds is also paying off. Almost a third of the product range is now tailo­red to this market. Pana­so­nic notes a growth of 176% in the reve­nue share compa­red to 2015 compa­red to 2016. Hand­held tablets such as the TOUGHPAD FZ-F1 and the TOUGHPAD FZ-N1 are on offer. With its unique, ergo­no­mi­c­ally inte­gra­ted barcode scan­ner on the under­side of the device, it protects users from repe­ti­tion of joint over­loads and Repe­ti­tive Strain Inju­ries (RSI), making them ideal for appli­ca­ti­ons such as trans­por­ta­tion & logistics, retail and manufacturing.
"With over 67% market share in the rugged note­book market and over 56% market share in the robust tablet market in EMEA, in 2016 Pana­so­nic conti­nued to set the stan­dards against which compe­ti­tors are measu­red," said David Krebs, EVP Enter­prise Mobi­lity and AIDC, VDC Rese­arch. "Plus, with Panasonic's world's first" fully rugge­di­zed "Detach­a­ble and its port­fo­lio of rugged hand­held tablets, it offers some of the most inno­va­tive products in the mobile compu­ting market."