Panasonic TOUGHBOOK G1
10.1" tablet with Windows 10 Pro and fully ruggedized protection.
New version: mk5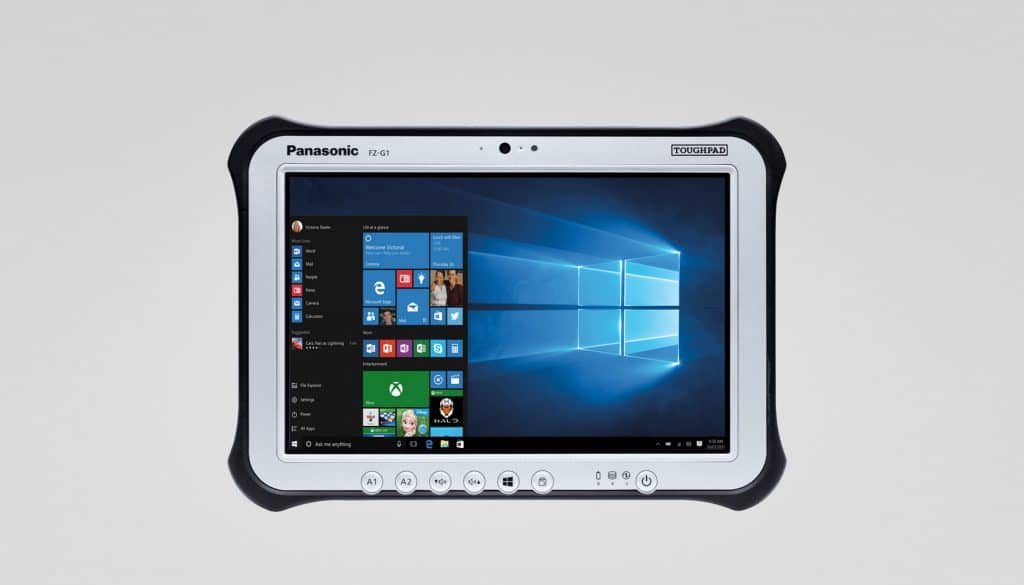 TOUGHBOOK G1
The TOUGHBOOK G1 sets new standards for tablets with a glare-free outdoor display, making it the ideal companion for outdoor workers. Its capacitive 10-finger multi-touch display, digitizer pen and flexibly configurable ports allow this Windows 10 Pro device to display HD documentation and images outdoors while still benefiting from its excellent connectivity to ensure that data when needed are always available. The freely configurable port allows employees to access legacy port options in a compact, lightweight, fully-ruggedized enclosure.
New version: mk5
---
Intel

®

Core i5-6300U vPro-processor
Windows 10 Pro
Intel HD graphics 520
Outdoor display with the latest IPSα technology
Bright 10,1" WUXGA display (1920 x 1200) with up to 800 cd/m²
Capacitive 10-finger multi-touch screen and digitizer
Drop resistance up to a height of 180 cm*
Waterproof and dustproof (IP65)*
Up to 14 hours of battery life; the battery can be changed by the user
Hot-swappable battery optional
Flexibly configurable port (serial, LAN, microSD or USB 2.0)
Lightweight design – weighs about 1.1 kg
3 year standard warranty
* Tested by an independent testing institute according to MIL-STD-810G and IEC 60529 sections 13.4, 13.6.2, 14.2.5 and 14.
Download

(PDF)
FZ-G1 ATEX
Fully rugged protection and ATEX Zone 2 certification
The fully rugged Toughpad FZ-G1 sets new standards for tablets with a glare-free outdoor display and is the ideal tool for mobile computing in ATEX Zone 2 environments.
The "fully fuggedized" 10.1" Windows 10 tablet has been specially designed for use in the oil and gas industry and other environments with explosion hazard.
Its capacitive 10-finger multi-touch display, digitizer pen, and flexible configurable port allow working with HD documentation and optimal data transfer with excellent connectivity in ATEX environments.
---
Intel

®

Core™ i5-6300U vPro processor
Windows 10 Pro
ATEX Zone 2 certified*
Drop resistance up to 180 cm**
Water- and dust protected (IP65)**
Bright 10,1" outdoor display with max. 800 cd/m2 (WUXGA, 1920 x 1200)
Up to 14 hours of battery life
Configuration port (Serial, LAN, microSD or USB 2.0)
Lightweight with 1,55 kg (including leather cover)
* ATEX II 3 G Ex ic ec IIB T3 Gc (with broadband module)
ATEX II 3 G Ex ic ec IIC T3 Gc (without broadband module)
** Tested by an independent testing institute according to MIL-STD-810G and IEC 60529, sections 13.4, 13.6.2, 14.2.5 and 14.3
Download

(PDF)
---
Panasonic TOUGHBOOK G1 Configurator
Request desired configuration