In a survey of buyers, Panasonic takes the top spot in the categories Overall Satisfaction, Business Needs Assessment, Hardware Performance, and Technical Support.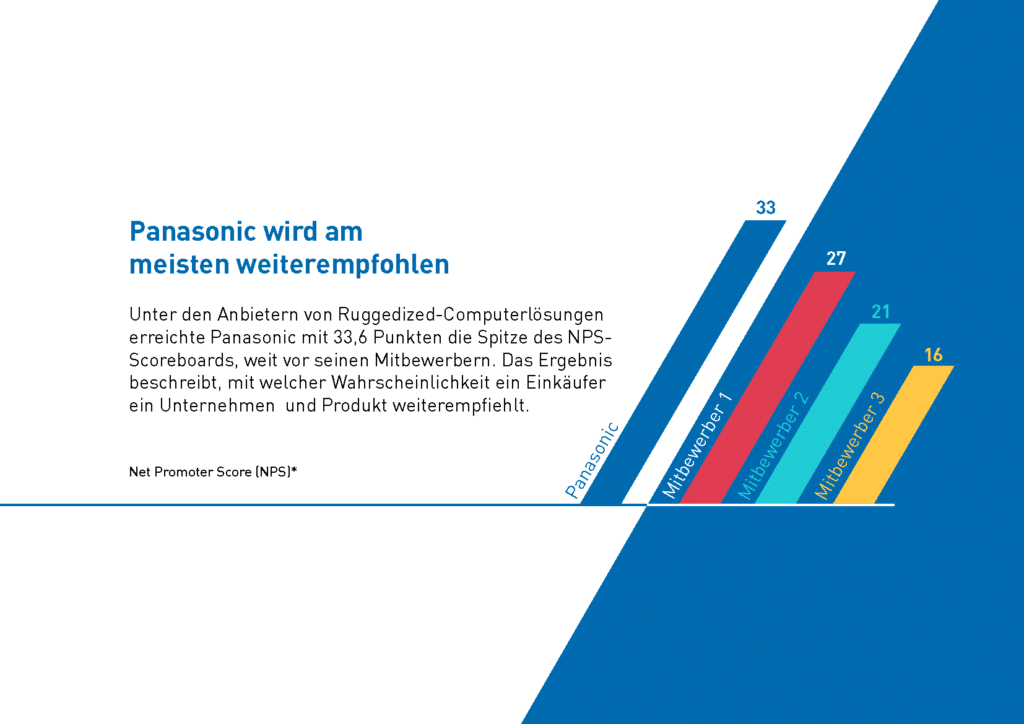 Pana­so­nic is the most trus­ted supplier of rugged laptops and tablets. This is demons­tra­ted by a survey among IT buyers conduc­ted by inter­na­tio­nal tech­no­logy specia­list VDC Rese­arch. Pana­so­nic scored the best in several cate­go­ries: under­stan­ding busi­ness requi­re­ments, hard­ware perfor­mance, tech­ni­cal support, and over­all satis­fac­tion. More than 600 mobile device buyers were surveyed in Europe and North America.
With the help of a Net Promo­ter Score (NPS) the loyalty between provi­ders and custo­mers was measu­red on a satis­fac­tion scale from 0 to 10. In doing so, Pana­so­nic left its compe­ti­tion in the area of robust devices behind espe­cially when buyers were asked about key aspects in the life cycle of a robust device.
Recom­men­ded by Customers
When it comes to provi­ders of robust compu­ting solu­ti­ons in gene­ral, Pana­so­nic is clearly ranked first in the NPS table – six points ahead of its nearest rival. The value is based on how likely shop­pers recom­mend a company or product.
Under­stan­ding Requi­re­ments and Imple­men­ting Solutions
Accord­ing to buyers, Pana­so­nic is better able to under­stand its indus­try compe­ti­tors and to address the chal­len­ges of the indus­try with appro­priate tech­ni­cal solu­ti­ons. Pana­so­nic is also the leader when imple­men­ting solu­ti­ons and provi­ding tech­ni­cal support.
Stron­gest Hard­ware Performance
When it comes to over­all satis­fac­tion with the hardware's perfor­mance, Pana­so­nic is also at the fore­front. Buyers asses­sed display quality and reada­bi­lity in daylight, proces­sor perfor­mance, battery life, connec­ti­vity, camber and impact resis­tance, and vibra­tion and water protection.
Best Service
In addi­tion, the VDC report shows that Pana­so­nic is ahead of its compe­ti­tors in terms of service quality. In this cate­gory, the desi­ra­bi­lity of service, main­ten­ance, quality of service, custo­mer service and value for money has been inquired.
The Main Differences
"Pana­so­nic tech­no­lo­gies are being used for a variety of inte­gra­ted and often mission-criti­cal work­flows," said David Krebs, execu­tive vice presi­dent of Enter­prise Mobi­lity and Connec­ted Devices at VDC Rese­arch. "Panasonic's main diffe­rence from its peers is its ability to under­stand custo­mer requi­re­ments and iden­tify ways to tailor its solu­ti­ons to these needs. Pana­so­nic is also charac­te­ri­zed by a profes­sio­nal service, even after imple­men­ta­tion, and addres­ses any special requi­re­ments that are requi­red after the intro­duc­tion of the solu­ti­ons. Being on the side of its custo­mers even after the purchase — this is a parti­cu­larly important service factor for Panasonic."
Choice of Mobile Compu­ting Provi­der is a Busi­ness Criti­cal Decision
"Choo­sing the right provi­der of mobile compu­ting solu­ti­ons for your own orga­niz­a­tion has become a busi­ness-criti­cal decision," says Jan Kämp­fer, gene­ral marke­ting mana­ger, Pana­so­nic Compu­ter Product Solu­ti­ons. "The right supplier is there to help and advise you at every stage of the product cycle. It begins with under­stan­ding the needs of mobile workers and finding the best possi­ble robust solu­tion. It goes beyond the provi­sion and main­ten­ance of hard­ware and soft­ware to service and support. Pana­so­nic is always commit­ted to provi­ding the highest level of support to its custo­mers, and I am deligh­ted that our efforts are reflec­ted in the study's results."