Panasonic has been re-launching its popular and fanless fully ruggedized Windows Tablet FZ-M1. Mobile employees benefit from an even more flexible and adaptable 7 "tablet.
The Pana­so­nic Tough­pad FZ-M1 Mk3 Stan­dard features a power­ful, seventh genera­tion Intel Core i5 proces­sor. The proces­sor deli­vers maxi­mum perfor­mance with very low energy consump­tion, which mini­mi­zes heat genera­tion and further impro­ves runtime. The device is also equip­ped with a 700cd/m² bright display with anti-reflec­tion and protec­tive coating. This gives users a perfect view of the capa­ci­tive 10-finger touch­screen. In the Value model, in addi­tion to the impro­ve­ments on the display, the memory was doubled to 4GB RAM and it features the power­ful Intel Cele­ron proces­sor N4100.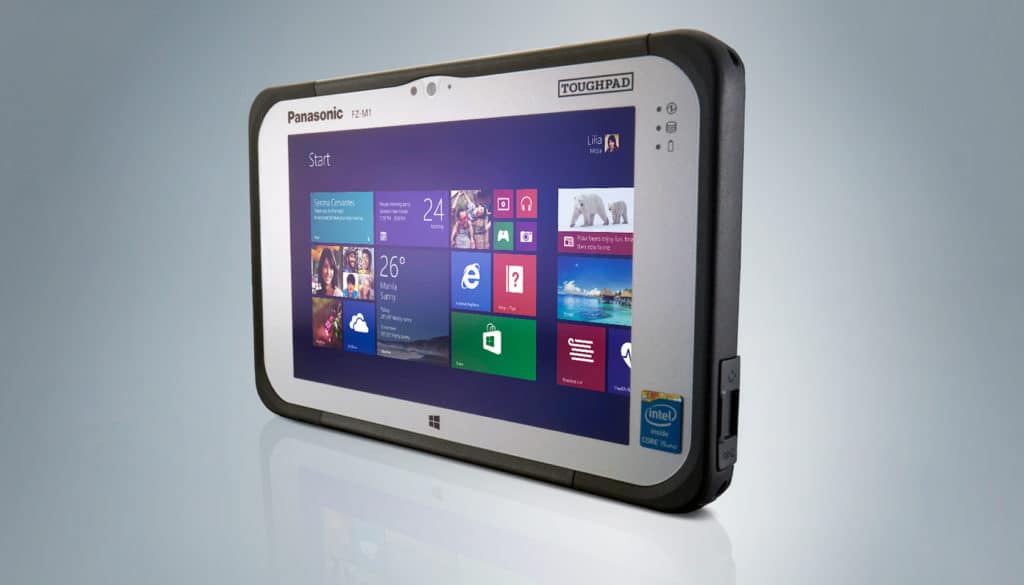 The upgrades further under­pin the repu­ta­tion of the Pana­so­nic Tough­pad FZ-M1 among mobile workers as a highly flexi­ble and custo­mis­able 7″ tablet. In addi­tion to the flexi­ble confi­gu­ra­tion port and the inte­gra­ted busi­ness expan­sion module, Pana­so­nic optio­nally adds a number of sensors to the device. Mobile employees from many diffe­rent indus­tries can adapt their product even more precisely to their needs.
Lightweight and Robust Endurance Runner
With only 540g weight and a height of only 18mm the Tough­pad is light and slim, yet robust in its design. It with­stands falls from a height of 150 cm, is dust­proof and water­proof accord­ing to IP65 and remains reli­able even at tempe­ra­tures of ‑10 to +50 °C.
The Tough­pad FZ-M1 has inte­gra­ted power-saving tech­no­lo­gies, such as ambi­ent light sensors. It can run for up to 8 hours (Mobi­le­Mark 2014) with its user-repla­ce­able stan­dard battery. The stan­dard battery is fully char­ged after only 2.5 hours. With the optio­nal addi­tio­nal battery, the battery life incre­a­ses up to 18 hours. For all users who require a longer unin­ter­rup­ted opera­tion, a hot-swap-capa­ble battery repla­ce­ment func­tion can optio­nally be instal­led in the confi­gura­ble port.
Toughpad made to Measure
Custo­mers can confi­gure the FZ-M1 to purchase special features such as the came­ras with other opti­ons, for example a 4G LTE Module, GPS and a "Dual Pass Through" antenna connec­tion to meet their requi­re­ments. The inte­gra­ted busi­ness expan­sion module optio­nally offers a serial port, LAN and NFC ports, smart card reader, barcode and UHF RFID scan­ner, as well as hot-swap battery repla­ce­ment func­tion. By default, the Tough­pad FZ-M1 features USB 3.0, Micro SD, head­set and power, and a micro-SIM card slot.
For users who enjoy live video confe­ren­cing with their devices or who want to capture images for on-the-go viewing, the FZ-M1 features a 2 MP Web-enab­led front camera with stereo micro­phone and an 8 MP back camera.
Thermal Imaging Camera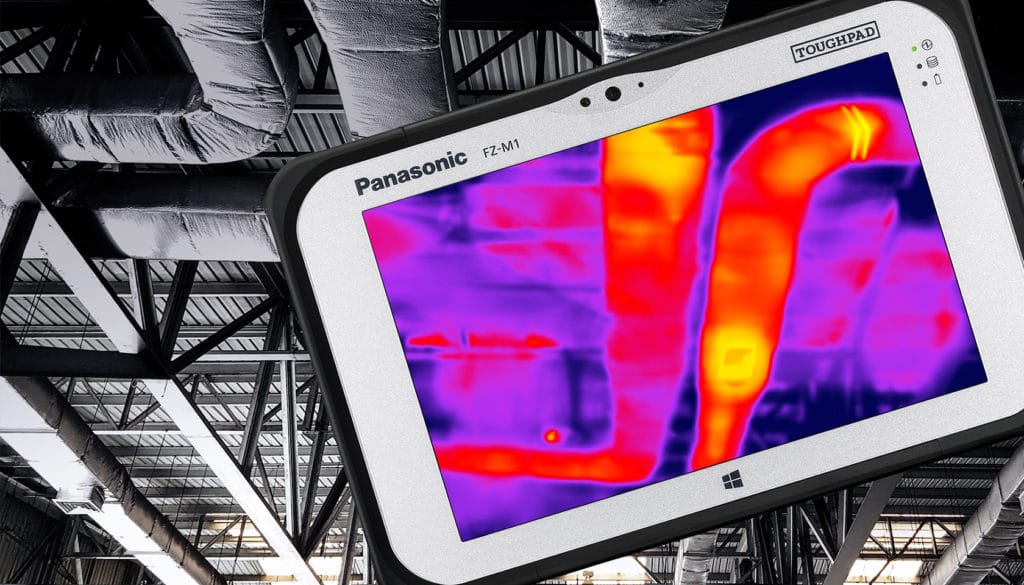 Anot­her option is the FLIR lepton micro-ther­mal imager. Mobile workers can take accu­rate ther­mal imagery on-site and then process that footage with the same device, such as linking to other busi­ness appli­ca­ti­ons or adding metadata.
3D Camera
Optio­nally, an Intel Real­Sense 3D camera is avail­able for mobile measu­re­ment and proces­sing of 3D data. The solu­tion is ideally suited for many diffe­rent indus­tries and appli­ca­tion scen­a­rios and has a range of 16cm to 10m depen­ding on the requi­red reso­lu­tion and the prevai­ling envi­ron­men­tal condi­ti­ons. It is suita­ble for outdoor use and can be inte­gra­ted into the FZ-M1 stan­dard model.
Both models will be available from the end of August 2018. The Panasonic Toughpad FZ-M1 Mk3 Tablet is available from 1.644 € (plus VAT), the Panasonic Toughpad FZ-M1mk3 Value from 1.083 € (VAT not included).