Panasonic TOUGHBOOK 33
12" detachable with fully ruggedized protection and Windows 10 Pro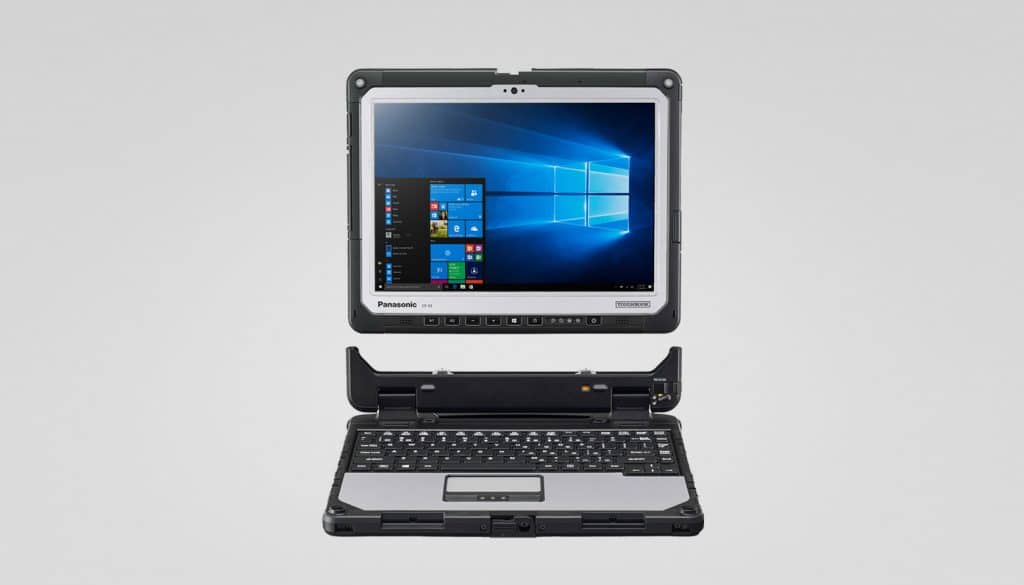 TOUGHBOOK 33 Tablet
Also as a 12" tablet, the Toughbook CF-33 with full ruggedized protection and hot-swappable dual rechargeable batteries as well as numerous configuration options is unequaled, flexible and powerful, making it ideal for mobile work in harsh environments. With its large, very bright (1200 cd / m2) glare-free dual-touch display, the CF-33 Tablet sets new standards for outdoor daylight use – ideal for field service, maintenance and service personnel, and mobile public employees.
---
Intel

®

Core™ i5-7300U vPro™ processor
Windows 10 Pro
Next-generation dual-touch display, 3: 2 aspect ratio
Non-glare 12" QHD (2160 ×1440) display with high brightness (up to 1200 cd/m²) for outdoor use
Capacitive screen with 10-finger multi-touch and glove mode
Digitizer pen integrated in the tablet
Waterproof and dustproof (IP65)**
Up to 11 hours battery life (MobileMark™ 2014)
Up to 22 hours battery life with extended* batteries (MobileMark™ 2014)
User changeable and hot-swappable battery
Flexible configuration options* (True serial, 2D barcode scanner, second USB-2.0 connector, smart card reader, contactless smart card reader and fingerprint sensor)
Comfortable and light weight with about 1,53 kg
Vehicle mount CF-33 Tablet*: for the mobile use as a tablet
Adapter (including slim keyboard)* for compatibility with CF-31 vehicle docking solutions
* Optional
** Tested by an independent testing laboratory according to MIL-STD-810G and IEC 60529
Download

(PDF)
TOUGHBOOK 33 Detachable
2-in-1 inklusive Tastatur
The new all-rougher 12" TOUGHBOOK 33 with dual hot-swappable batteries, detachable keyboard and numerous configuration options that make it an unmatched flexible and powerful mobile companion. Combining the advantages of two worlds (notebook and tablet) in one device, the CF-33 can be used in 6 different modes to meet the most diverse requirements in everyday work. Especially service technicians of utilities and telecommunications companies as well as police or rescue services benefit from the versatility of mobile work.
---
Intel

®

Core™ i5-7300U vPro™ processor
Windows 10 Pro
Dual-Touch-Display der nächsten Generation, Bildseitenverhältnis 3:2
Non-glare 12 "QHD (2160 × 1440) display with high brightness (up to 1200 cd / m²) for outdoor use
Capacitive screen with 10-finger multi-touch and glove mode
Digitizer pen integrated in the tablet part
Removable backlit keyboard*
Waterproof and dustproof (IP65)**
Up to 10 hours of battery life (MobileMark™ 2014)
Up to 20 hours of battery life with extended* battery (MobileMark™ 2014)
User-replaceable hot-swappable battery
Flexible configurations* (True serial, 2D-barcode scanner, second USB-2.0-connector, smart card reader, contactless smart card reader and fingerprint sensor)
Comfortable and lightweight with around 2.76 kg
Vehicle holder CF-33*: for the mobile use as a notebook
Download

(PDF)
---
Panasonic TOUGHBOOK 33 Configurator
Request desired configuration