New Topcon radio module for the Panasonic FZ-G1
Topcon is one of the world market leaders in the field of geodetic measuring instruments. To expand our portfolio, our module is now also available for Topcon Total Stations. Our case study gives you an insight into our development department.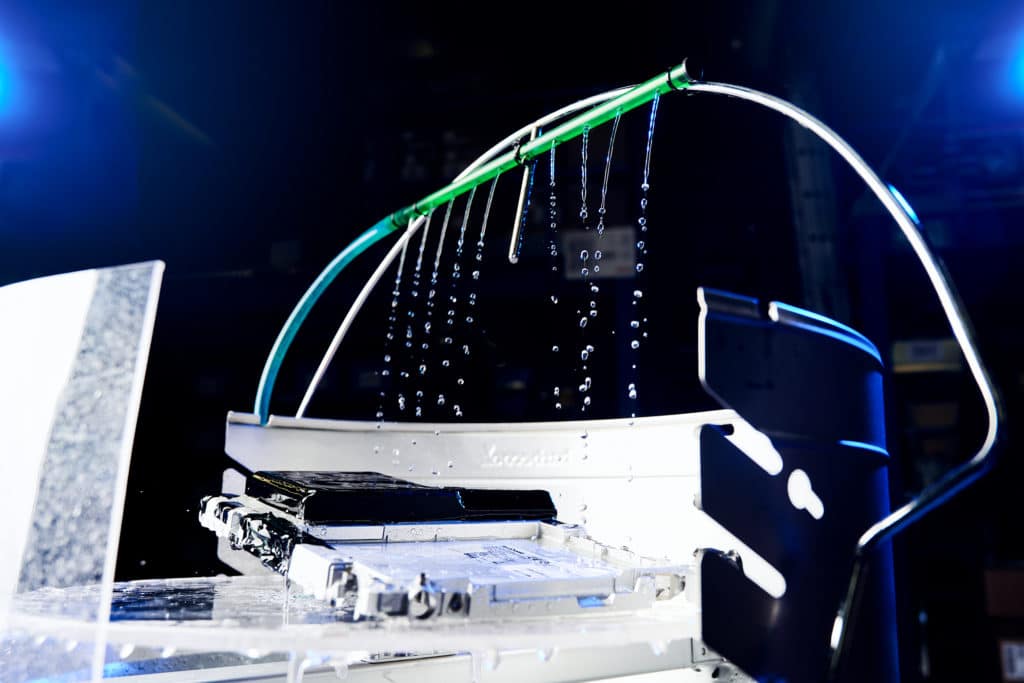 Steady drop … does not cave in here. PWA Topcon module in splash water test.
Für Projekt­kun­den im Bereich GIS und Vermes­sung bietet PWA bereits seit gerau­mer Zeit dedi­zierte Funk-Module zur Verbin­dung mit Total­sta­tio­nen an. Die Funk­mo­dule für Geräte von Trim­ble und Leica bewäh­ren sich im alltäg­li­chen Einsatz.
For project custo­mers in the field of GIS and survey­ing, PWA has been offe­ring dedi­ca­ted radio modu­les for connec­ting with total stati­ons for quite some time. The Trim­ble and Leica wire­less modu­les prove them­sel­ves in ever­y­day use.
Our latest deve­lop­ment now also allows the connec­tion with Topcon measu­ring devices. Diffe­rent anten­nas with diffe­rent dBi values allow a long range of up to 600 meters. The module is connec­ted to the compu­ter via a USB connec­tion inte­gra­ted in the housing.
Reliability as a basic principle
All our wire­less modu­les use the 3rd genera­tion of our Enclo­sure Enclo­sure on the Pana­so­nic Tough­pad FZ-G1. Based on prac­ti­cal expe­ri­ence, the inter­nal fixa­tion was adap­ted to the hard­ware. The already success­ful housing has been adap­ted with little effort.
Uniform sealing and packa­ging ensure high relia­bi­lity. Of course, when intro­du­cing new model revi­si­ons from Pana­so­nic, we also make sure our exten­si­ons fit perfec­tly.
Not very tight?
All new deve­lop­ments and adap­tati­ons must be subjec­ted to exten­sive leak tests. This dust and drizzle our exten­si­ons can not harm.
The radio module is also suita­ble for appli­ca­ti­ons outside the survey­ing area – please contact us for details or more infor­ma­tion on possi­ble adjust­ments.